Times Like These: On grief, hope & remarkable love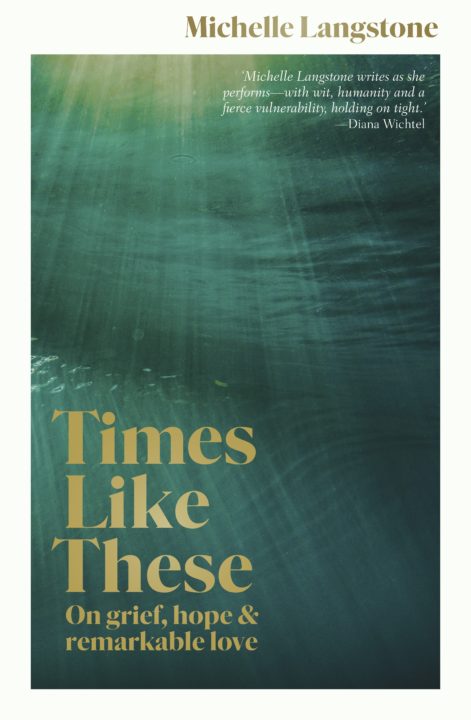 Times Like These: On grief, hope & remarkable love by Michelle Langstone. Allen & Unwin NZ (2021). RRP: $36.99. Pb, 264pp. ISBN: 9781988547527. Reviewed by S J Mannion.
This book is a beautifully structured collection of 11 essays, each one utterly individual yet intimately connected to the other, each one exquisitely personal yet universal. The themes come in procession: grief, hope, and yes, 'remarkable love'. There is such love here. It shines out from every page, the depth and breadth of it evident in both the form and content of the book.
Love matters. Family matters. Living things matter. And nothing else. (Wet Season, p.39)
With careful thoughtful prose, and elegant exposition, Langstone explores the poetry of feeling.
The gold and green of the cover provides an indication of things to come. The thick gold lettering reminds me of the Japanese practice of Kintsugi; the gilding of cracks and breakages, the honouring of them. Langstone does that here, within these tributes, to her father, her mother, her partner, her family. She acknowledges the pain and the privilege of living and loving, and she is a gracious and delicate advocate. She speaks here on aging:
It matters for my spirit that I accept with grace the way things are beginning to go. (Times Like These, p. 113)
In an essay on being out walking during lockdown, she writes with brilliant clarity and exactitude; perfectly expressing the 'quietude' of that experience for many of us.
As I walk, there is a strange euphoria in the day, a quiet one, a careful exultation of unhampered living. (Where I Walk, p. 122)
That 'careful exultation of unhampered living', there is the golden light of language shone bright. There is a laser like precision here too, a minute examination of language and thought. She writes of childhood shyness and the fragility of inclusion.
I liked my own company, but it was a learned enjoyment and something I accepted as a default prize … (Rabbits, p. 152)
A subtle observation, noting cause and effect, cupping both.
There is the beauty and gift of 'Love Like This' (how I envied her Massey and Fred).  She writes of them and of her relationship with them with such detailed devotion. I wept, at then elegiac view of the elderly that will forever inform my view of them.