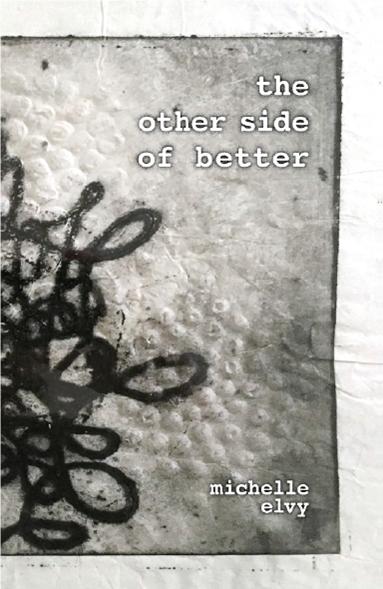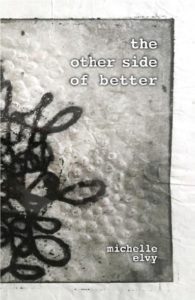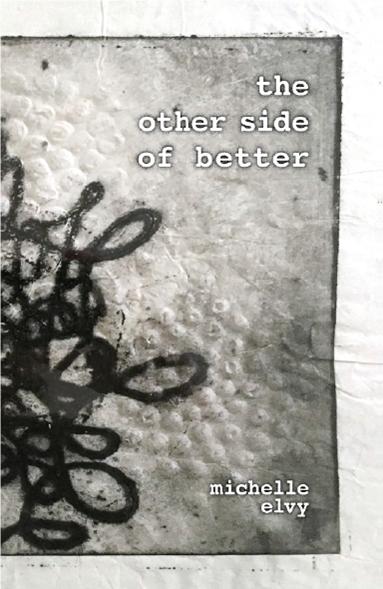 the other side of better by Michelle Elvy.
Ad Hoc Fiction (2021).
RRP. 25$. Pb, 172 pp.
ISBN: 9781912095025.
Reviewed by: Sarah Maindonald
I opened this door with some trepidation, being somewhat of a flash fiction virgin.
On the other side there was a roller coaster ride of sensory bliss, life's vignettes presented with subtlety and skill. Every sentence counts. Elvy masters a poignant and purposeful punctuation of multiple narratives.
A man finds a boy down a drainpipe searching for Antartica. This artfully shifts to glimpses of the man's marriage:
'What are you thinking?' she says [sic] … 'for about the millionth time he hates her but he also knows he'd hate it even more if she stopped…'
('Antartica', p.3)
The man, too, is searching for a new continent.
'The sky is heavily metallic', links both the drainpipe and the weight of it all. 'The hour before snowfall' portentous.
('Antartica', p.3)
We are transported to his kitchen where his wife stands naked:
'…. the snow falls and they can't get warm no matter how hard they make love…', the escape from chill to a new continent, imminent.
('Antartica', p.3)
Almost a testament to love and the absurdity of family, this next masterfully structured piece starts as Henry Watson's Buick skids off the road suggesting his life will flash before his eyes.
He remembers the mortifying moment his daughter discovers him masturbating in the cupboard … This fuses into another memory of blending malts with the lid left off, deliberate adjacent images, ' …her mighty laugh exploding at the eggs on the ceiling….'
('The Laugh That Was Always There', p.12)
In less than a page we see this life, his wife ravaged with cancer and yet her laugh
'…was always there, even as he lost sight of everything and the world went black.'
('The Laugh That Was Always There', p13)
These are tastes of the myriad of moments I encountered in the other side of better.
I met the Fuddy Duddy Editor in eighteen various configurations of a French kiss, Life and Love with a clean colon, the scrabble game which ends with
'his k-i-s-s-m-e ending the game her r-u-i-n falling from its perch.'
('The Fuddy Duddy Editor Plays Scrabble', p.87)
It's a challenge to capture the sheer delight of close to eighty of these pearlers –Lessons from Childhood: The Chair, Lost and Found in Berlin incongruous, intriguing, capturing our essential fragilities.
Reading this collection is akin to falling down the rabbit hole, sliding past and through a kaleidoscope of lives.
You may indeed find the other side of better if you just open your mouth and 'swallow the stars'.
('Whale Shark', p.145)