How to Loiter in a Turf War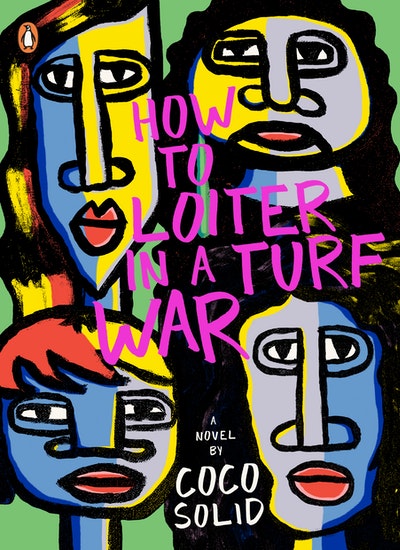 How to Loiter in a Turf War by Coco Solid. Penguin Books (2022). RRP: $28.00. Pb, 176 pp. ISBN: 9780143778585. Reviewed by Sarah Maindonald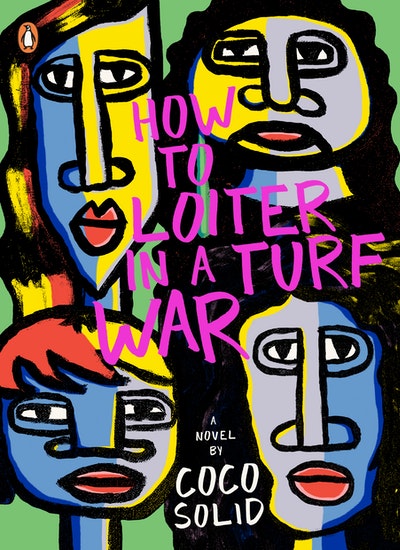 'Ko te mea tuatahi he mihi aroha ki te whaea o Te Hoia, ngā mihi, ngā mihi, ngā mihi.'
To lose a child, I've always thought, would take away your will to keep going and yet Te Hoia's spirit speaks to us through this novel, she is indeed the soldier and her mother too as she fulfills her wish to see her daughter's name in print.
Jessica Hansell aka Coco Solid takes us on several tours of what is loosely based on Tāmaki Makaurau but could be 'Suva, Honolulu, Auckland or Apia'. (p.15) where we see the impact of gentrification, colonisation and racism with the 'death rattle of capitalism' (p.175) ringing in our ears. These weighty realities are viewed through the day-to-day experiences of three close friends who weave and dance us through their everyday lives, with their passions and their slaps in the face, and all punctuated by Te Hoia's readings of 'Piopi Ruta Chris', 'an academic, lawyer and poet' who delivers a historical reality check of the oppressive history of Aotearoa.
On first reading I jotted: mixture of rant, philosophising, slam poetry, stream of consciousness … yet I'm hooked. This doesn't really do this justice either, as it is a well crafted chaos, mirroring the incidental moments which reveal real despair and tragedy—Angie, the mother who carefully arranges herself on a piece of cardboard, her shifting 'home' in this gentrified landscape. Angie, who also loses a child in what appears to be a desert. A place where there is no compassion to soften her reality. She is powerfully described: 'But recognition doesn't even enter Angie's stare—she is vapour now' (p.54) with life sucked out of her.  The bus trip, where an act of giving backfires and turns ugly. When the man that Q has kindly paid a fare for, turns on them 'smart uglies' (p155). Fortunately their ally, the bus driver, Tongan, comes to their aid and expels the man. The turf war is everywhere. Safety is an illusion. And racism, sexism, landlessness, homelessness rule. Even a seemingly harmless liaison with a white boy turns sour as he reveals his unimaginatively racist view by imagining her grandfather's shop to be a front for drug dealing.
This is the 'Coco Solid' experience, it is the experience of being brown in Aotearoa, though these three young people have diverse ethnic and gender identities, and differ in how they respond to the various events that are played out in this novel, the experience of 'being brown' unites them. Coco (Jessica) has created a postmodernist novel with its multiple realities playing out against an ever shifting backdrop. A landscape cluttered with money grabbing developers, and one where the needs of everyday people become invisible, 'vapour'. With the final kick in the guts being that they have changed the bus stops, leaving Te Hoia vulnerable, with fewer choices about possible next steps. This story is metaphor rich, populated by chapter titles which entice, such as 'Coconut Joker' and 'Is that us?' Then there's 'Time Capsule of Disgust'—these also serve as sign posts.
At one level this is an easy read and at another level, it sits in your gut, churning, allowing you to digest its entirety; the creative genius, the artwork, the poetry, the pontificating, the political satire and the vision. You only have to open the first page. Te Hoia will take it from there.
---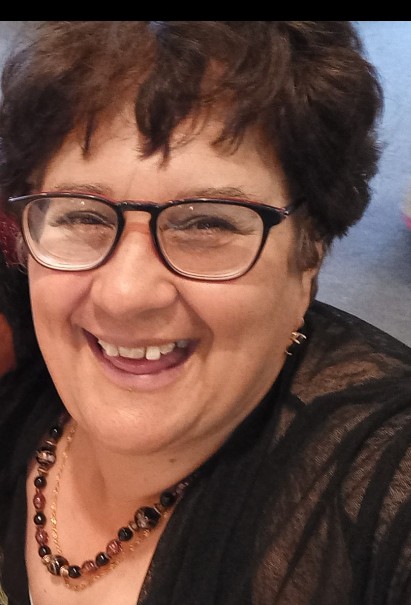 Sarah Maindonald is of Fijian Indian and Pākehā descent, born in Aotearoa. They identify as an Asian Pacific New Zealander who walks comfortably in Te Ao Māori. They have always loved writing but started writing more formally when they joined the Hagley Writers' Institute in 2010. They are now a member of Fika, a collective of Pacific writers in Ōtautahi, Christchurch.