Fiona Farrell, Nouns, verbs, etc. (selected poems)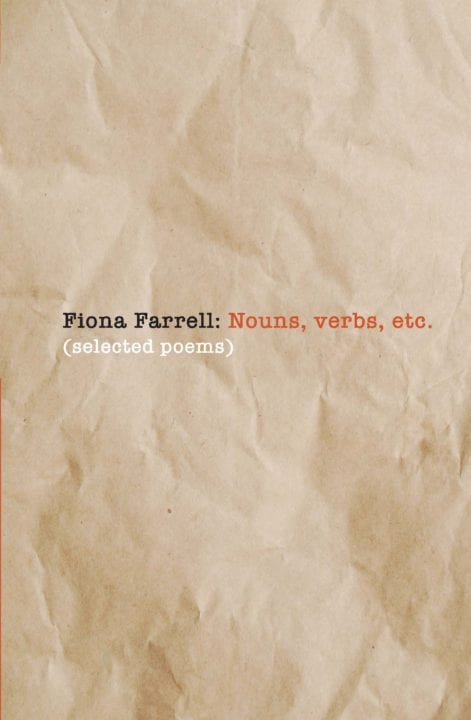 Nouns, verbs, etc. (selected poems) by Fiona Farrell
Dunedin: Otago University Press, (2020)
RRP: $35, Hb, 212pp
ISBN: 978-1-98-859253-4
Reviewed by Mary Cresswell
Nouns, verbs, etc. is an attractively presented hardback featuring Farrell's 2020 selection of her own poems, both published and unpublished. The published ones come from four earlier collections: Cutting Out (1987), The Inhabited Initial (1999), The Pop-Up Book of Invasions (2007) and The Broken Book (2011). Each selection is followed by a group of 'uncollected poems' which are not presented in order of composition but to address a particular theme in the published poems. The full book is well thought out and a great pleasure to read and read again.
The 1987 selection begins and ends in a graveyard, with the breakdown into basics that comes with total grief.
The place is a mess and
nothing is where it used to be.
Muddle and scatter. ('Moving', p. 19)
'Three births' collects feelings from both ends of the spectrum, ending with the loss of an unborn child (made cruelly trivial by the doctor).
The women immigrants[i] starring in 'Passengers' are also disjointed, rejected by the society that supposedly welcomed them in the first place: Anne, labelled 'Clandestine' by the police; Mary, the household skivvy; Lucy, who died of 'nervous debility'; and Charlotte, who started out as a skivvy but flipped the bird to her mistress ('But now you're on your own, my dear… And you can open your own front door', p. 28). It's worth noting here that the notes for this book have a vivid voice of their own as well. The poems can be read without them, but the notes front for worlds quite separate from the worlds of the poems. 'Passengers' features twenty 19th-century immigrant women, and in the notes we are also told about a group of songs designed for a YWCA production for the UN Decade for Women, a commission which requested 'lots of roles for girls'. And lots more: language, writing systems, things we should know about Ireland. The notes of this book add another layer to the poetry.
All the published poems in this section present us with fragments in some way or another, and it isn't until we get to the next (1999) section before we are presented with the idea that bits and pieces might be part of something permanent.
'The inhabited initial' is based on meditations on the sources of western writing, including the Hebrew alphabet. But all is not kosher: various letters come in more than once, with differing definitions. (I like the camel who comes in twice, from two directions, and there are five hooks.) Without being specifically told to, we get the idea of attaching disparate bits and pieces a place of their own, maybe even a meaning.
The next poem is a riff on punctuation marks:
Each line a hollow stem
filled with meaning.
Each dot an egg-sac
squirming, each squiggle
setting root where it falls. ('To the point', p. 63)
The seven-page poem 'In a nutshell' collects all the memories and sensations alive in one hospice ward and attaches them to one figure, the author's mother in her last days, her death and her burial. The focus is total and powerful – no fragmentation here.
The 2007 poems are a product of Farrell's residency in Ireland, and they feel like a re-discovered history – specifically of Ireland, but also of the fact that invasions are a permanent part of history, everywhere and forever, even as our genealogies weave in and out.
Irish has two verbs for 'to be', one showing permanence and the other showing transience; the poet thinks on this as she and her daughter 'climb the high hills'.
That is how it is now.
That is how it will be.
That is how it will be
till she is and I am not.
She will be.
I will not be.
The verbs slip under our boots,
like small changeable stones. ('The verb "to be"', p. 139)
We start to feel that time, like history, is itself all of one piece – it is only we the inhabitants of either that come in bits; the Irish poems all feel as though we are standing on solid ground, regardless of stones.
But then we come to Christchurch, 2011:
We will look up as the roof
lifts. The air will come in,
tickling our stuff with
speculative fingers, rain
will fall on our bare faces. ('The tarp', p. 155)
And:
So were we ever surprised
when the joke came tickling
teetackatacka at the window
frame, and dwang and soffit
broke up, purling and joist
fell about and
BOOM BOOM!
There's the punchline.
A bar walked into a man … ('The joke', p. 163)
Back to fragments, like it or not, and the anger and grief that came along with the earthquakes.
The 'Uncollected poems' – four groups of them – are a book of their own, standing quite separate from the published material and not conversing with it other than by implication. I think the closest they come to an answer to the published works' fragmentation is that all of them offer love and comfort not visible in the other sections – but Farrell has thankfully avoided setting up Wise Mature Moi Speaking to Giddy Young Moi. People fall in love, children grow up and leave home, fathers provide comfort. A sense of place, a very New Zealand landscape with very New Zealand wildlife, comes through in all of the first three groups of new poems. 'Falling in love on the way home' (p. 98) is a wonderful example:
I have fallen in love
on the way home.
First, a lake lay down beside me
naked to the horizon.
Then, a hill stretched out its
brown arm and drew me close.
I could smell the sweat of its
crevices at every turn.
Then, a harbour licked my ear,
whispering the things harbours
say to all the girls about other
places they have touched, but
you're the one, babe, hey, you're
the one. …
The last poems, following the post-earthquake published poems, are something else again: pessimistic, very much of the world we are all trying to cope with at the moment. Farrell notes that the ten pages 'Myth and legend' are from a collection she is working on now. 'The first four ships' begins this series, spookily describing invasion by cruise ship, and is followed by sinister takes on the Pied Piper, 'their animals' brought ashore, a messiah. The selection is very powerful, and very scary.
The final poem in the book, 'Photo opportunity', eases the horror a bit (but not much), addressing escape and memory, those fragments we have shored against our ruins:
As we approach the river of
forgetfulness, you will notice
a slight
There are exits here.
And here. They have been
sealed for your security.
Do not adjust your aperture.
And now we are on our way.
We have crossed
the
watchamacallit.
And we are heading fast
toward
thingummiebob