Bordering on the Miraculous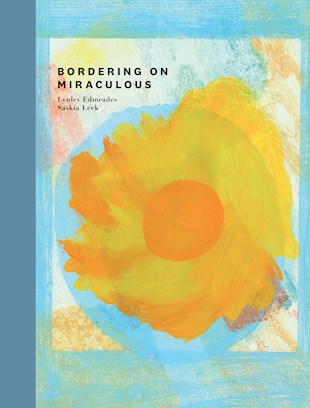 Bordering on Miraculous by Lynley Edmeades and Saskia Leek. Massey University Press (2022). RRP: $45.00. Hb, 96 pp.  ISBN: : 978-1-99-115113-1. Reviewed by: Roger Boyce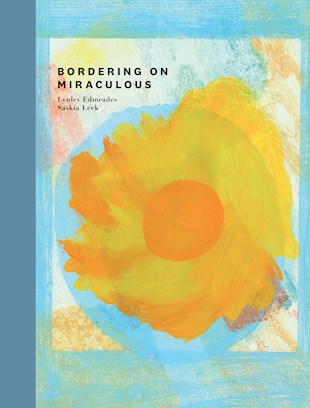 Bordering On Miraculous is an artists' book, featuring a collaboration between poet Lynley Edmeades and visual artist Saskia Leek.
This is the fourth book in the Korero series – – a project organised by Mister Pip author Lloyd Jones. Jones, who charmingly refers to the series as 'picture books for adults', hand-selected the series' collaborators and assigned each pairing a loose-garmented point of departure.
Loyd's selection of participants, Edmeades and Leek, is an editorially adroit one. Both Edmeades and Leek are what may be fairly described as lyrical minimalists. Abstinence from showiness characterises both the veteran poet and veteran painter's previous solo efforts. And, given the pair's apparently shared sensibility, there's no interjecting tension preventing a relatively seamless pairing of two artists. That in itself borders on the miraculous. 
The picture book's working process is somewhat akin to antiphony, of the kind found in call-and-response singing: Leek producing suites of what look to be mono-prints –- the most painterly and spontaneous of printmaking methods –- to which Edmeades responds with associative text. Edmeades' replying poetic sympathies then giving rise to answering images from Leek, and so on, and on.
Leek draws on her long-established, and highly recognisable stylistic tendencies, consisting of a low-key, chromatic, palette augmenting her habitual and visually canny flattening of volumetric notation. Leek's paintings, though presumably representational, contain fascinating, internal, abstractions. Similarly, Edmeades familiar, bite-sized, lyrical observations are built of individual words worthy of stand-alone appreciation and all the more notable for each word's complimentary savouriness, derived from their rubbing up against one another on their way toward a sensibly representational conclusion.
Leek's unmoored shapes and shifting translucent layers elegantly echo Edmeades' textually alluded-to things, places and emotions which read as if they are unostentatiously leaking into and influentially colouring one another.
Serially browsing, or dropping now and again, into text and image, one falls into effortless, languorous, step with the volume's palpable time-signature – a meter shared by painter and poet. Leavings and comings are cadenced and unhurried. With as much pausing and waiting involved as there is inauguration and embarkation.
Much of the book's shared rhythmic markers are domestic measures. Even the saltings of natural world grandeur, pressed between pages of domiciliary life, are, more often than not, glimpsed through the windows and doors of a family home. Lines drawn in the sands of a beach inevitably make their way back to matronymic surrounds
There are bonafide miracles amongst "the little things"one finds in these marvelous pages. The roundness and preternatural weight of an infant's head, a pictographic clock face balancing precariously on the far-fetched pointedness of a stylised mountain peak, surface-pattern grids, cups, snippets of conversation, pipe dreams that won't stay put in space nor time. 
Bordering On Miraculous is most assuredly not a coffee table contender. It is instead a relatively slim and handsomely designed (thank you Gary Stewart) poetic-treatise on the inescapability of being human. A testament to the advisability of and exhortation to become more consciously aware of the improbably crystallising clusters of minor possibility that coalesce into what we –- or others on our behalf –- call a life.