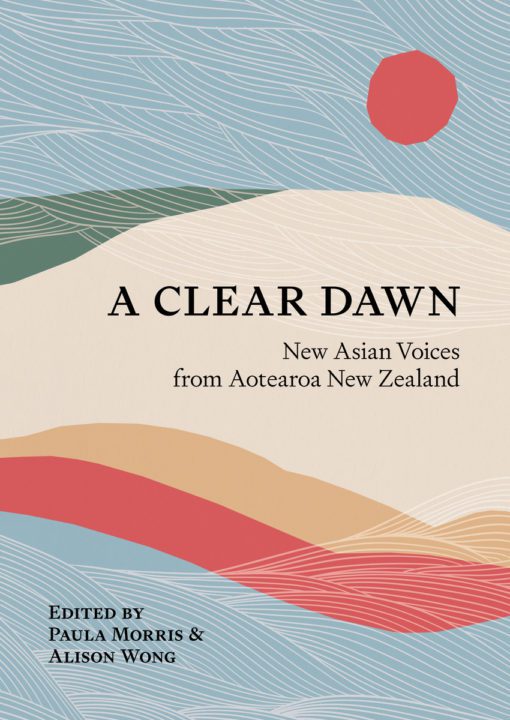 A Clear Dawn: New Asian Voices from Aotearoa New Zealand edited by Paula Morris and Alison Wong.
Auckland: AUP(2021).
RRP: $49.99. Pb, 350pp.
Reviewed by Vaughan Rapatahana.
A Clear Dawn is a compilation of emerging poets, story writers, and essayists. The criterion of 'new writer' is explained by the editors as those who 'had no more than two full-length publications at the time of selection'. Indeed, some writers included are represented in print for the first time.
While there is a gamut from recent school leaver through to super annuitant, many authors are young. Some were born here, in Aotearoa New Zealand, while others came with their parents at various stages of their childhood, often in reaction to restrictive situations in their homelands. While a few no longer reside here, every writer's attachment to Aotearoa is tangible. More, the brief biographical notes reveal a considerable amount of travel back and forth to their or their tīpuna countries of birth, while their work often emphatically describes their longing to reconnect with tīpuna, as for example, in the poetry of Cybella Maffitt. There is considerably powerful and candid writing throughout.
Throughout, also then, is a marked diasporic element as well as a pronounced sense of identity loss, displacement and confusion regarding cultural ties. As the editors note, 'The writers in this anthology roam'. Existential angst and a little anger pervade the poetry and tales here. Take the quick-to-read but quintessential 'Diaspora' by Rushi Vyas, which ends with,
…. know the silence
of a half-empty half-material imagining self
searching for reminders perpetual this hearing
the ocean in passing traffic (p. 297).
Similarly, Gemishka Chetty simply states in 'Two Colours':
I sit between the world of the ham sandwich and the world of the priest's blessing at the temple,
I will always wrestle between these two colours.
(p. 38).
Sexual identities and relationships are scrupulously examined. Variegated foods fill the shelves of this book. Politics and politicians add to the ambience.
There is a manifest desire by some of the contributors to attain or retain the language of their parents/grandparents, and an associated confusion at times. Rather than manifest multilingualism, there is a desire to own it. In her fine poem 'Mother Tongue' (pp. 215-216), Nina Mingya Powles laments:
I wake to the sound of
blue mosque morning prayers
I have never known what the words mean
but I can hear the ache…
Later, she speaks to us of 'a language so familiar but so far away' and dreams of a time and place, 'where I am not trapped in any language'.
Racism is encountered too – Kiwi ignorance, even fear – is a steady theme in these pages. Rosabel Tan points out the irony of the rather rapid recent immigration from Taiwan and Hong Kong to Auckland, 'While I've always been aware of my difference, at first it was because I was the only one and then because I was one of many. I went from being a novelty to a threat' (p. 246).
Sigred Yamit delineates further:
In Kmart a lady asked
Where I was from
I'm from here.
No, where are you really from?
I was born in the Philippines but
I've lived in New Zealand for a while so 
                             I'm basically from here. 
She nodded, perplexed.
('Unicorn', p. 312).
Such perplexity and outright prejudice should be countered by the sense of K Emma Ng's quoted desire to reframe Māori-Pākehā biculturalism as embedded in Te Tiriti o Waitangi, as an equal relationship between tangata whenua and the often now multicultural tauiwi. In other words, all New Zealanders who are not tangata whenua enter into and respect this codified contract with Māori. This process is inevitable and equates with the third principle of te Tiriti.
Morris and Wong stress that Asian voices can only 'enrich New Zealand, and suggest how many different experiences and writing traditions are transforming what this country is, and what it might become'. Tika tēnei kōrero!
---
Vaughan Rapatahana lives in Aotearoa New Zealand and has homes in Hong Kong SAR and Philippines. His whānau is both multi-ethnic and multilingual, being Filipino, Hong Kong Chinese, South Korean, Māori, Pākehā.