Nina Mingya Powles, Magnolia 木蘭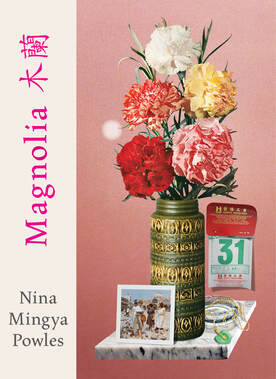 Magnolia 木蘭 by Nina Mingya Powles
Wellington: Seraph Press (2020)
RRP: $30; Pb; 84 pp
ISBN: 978-0-9951082-5-7
Reviewed by Claire Lacey
Magnolia 木蘭 is a sensual, evocative collection from poet Nina Mingya Powles. The poems consider the what home means to Powles, a writer of Malaysian-Chinese and Pākehā heritage who has lived in Aotearoa, Malaysia, Shanghai and London. The poems flow between a personal lyric voice and crisp conceptual pieces, moving between forms with purpose and grace. Across the collection, references to food, colour, place and dream accrete and blur. From the silken tofu and sticky rice described with loving attention to a yellow sea of kōwhai and the downpours that are unavoidable in any language, Powles has a compelling ability to snapshot private moments of both belonging and disconnection.
The collection works as a Bildungsroman of sorts, from the first poem which establishes the narrator as a young girl practicing her Chinese by watching the Disney film Mulan in Chinese with English subtitles. This girl both sees herself and doesn't see herself in the princess-turned-warrior, noting that Mulan is 'unlike me with my thick legs / and too much hair that doesn't stay.'
Search for representation continues through the collection, as women from literature, film, myth and history are integrated into the narrator's journey. This longing to find connection with these characters mirrors interactions with strangers, who question the narrator about her ethnicity, appearance and belonging. The tension culminates in 'Alternate words for mixed-race' a confronting poem with footnotes that draw the reader's gaze up and down the page, paralleling the judgmental looks she is recipient of over and over again. Powles examines the power of gazes and expectations, both as an observer of art and film, and as the object of observation as a mixed-race women moving across the globe.
Mandarin, Hakka and Māori words are interspersed through the English poems, which address language learning and language politics directly. The narrator grasps after language, searching the dictionary for Mandarin words and phrases, loading them with personal significance. Magnolia 木蘭 delights in language and its ambiguity, and particularly how the sound and feel of words in the mouth can be as juicy and delicious as fruit:
'We look up the Chinese name
for persimmon on my phone, 柿子, we taste the word,
we cut it open, wondering how it sounds
so like the word for lion, 狮子, lion fruit
like a tiny roaring sun, shiny lion fruit.' (Pg. ?)
In the poem 'Fallen City', Powles writes that 'each person has their own secret map.' Magnolia 木蘭 gives us glimpses into Powles' psychological map of the cities she lives in, layered with family history, global cultural references, magnolia and kōwhai petals, beautiful food, shifting language and glorious colour. Powles puts her fantastic powers of observation and description to work, and the poetry reflects a nuanced palate in every sense of the word. This is versatile and vibrant poetry that captures personal snapshots with touching intimacy.
Claire Lacey
Claire Lacey is a Canadian-born writer. Her first poetry collection, Twin Tongues, won the Robert Kroetsch Award for Innovative Poetry. Her second book, Selkie, is a graphic novel collaboration with artist Sachie Ogawa. Claire is currently pursuing a PhD on the topic of brain injury and poetry at the University of Otago in Aotearoa New Zealand.